Created and supported by the Mass General Cancer Center, the one hundred honors 100 Everyday Amazing individuals and groups each year who are changing how we fight cancer. Their commitment inspires us all to take action.
Granara-Skerry Trust philanthropist 2015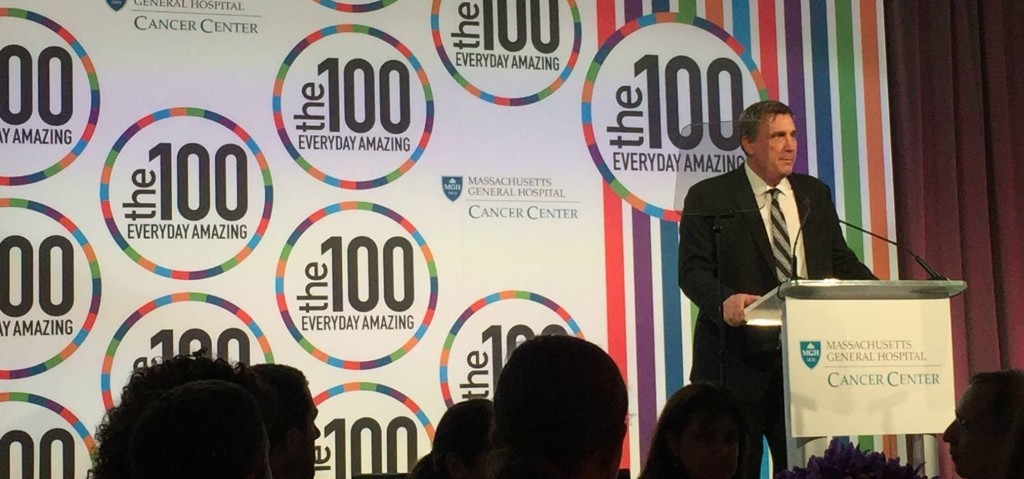 On May 26, 2015 we were honored to sponsor and attend the Mass General Hospital Cancer Center the one hundred Gala. We had an incredible time listening to all the amazing stories and we had the pleasure of meeting some of the honorees, as well. Congratulations to all and thank you for your commitment in the fight against cancer. Click the link below to read about the honorees for 2015 and years past.
https://www.theonehundred.org/honorees/
Granara-Skerry Trust Philanthropist 2014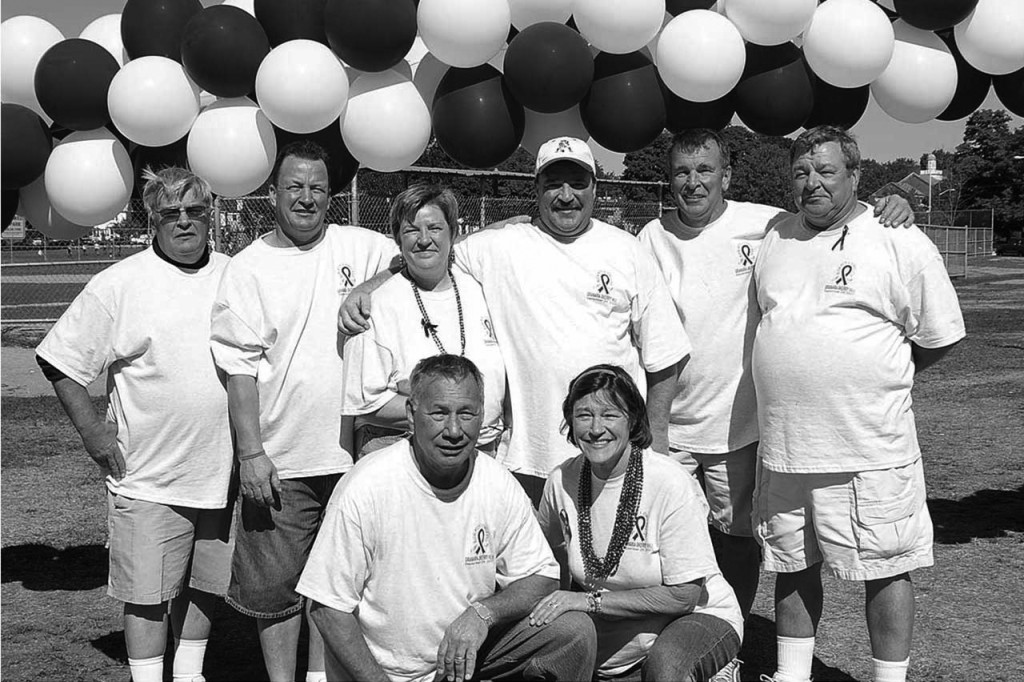 Throughout Kathleen Granara-Skerry's battle with pancreatic cancer, her six siblings were always by her side and aiding her in her mission to raise $1 million to support pancreatic cancer research at the Mass General Cancer Center. After Kathleen's passing, her sister and brothers committed to "carry the torch" for their sister and continue Kathleen's fundraising efforts to find a cure for pancreatic cancer.
The Granara-Skerry Trust was founded for three purposes: to comfort families facing pancreatic cancer; to raise funds to support research; and to raise awareness of pancreatic cancer, the fourth leading cause of death among cancer patients. Since its inception in 2006, the Granara-Skerry Trust has raised and donated more than $670,000 to support the work of Kathleen's doctor, Andrew Zhu, MD, PhD, at the Mass General Cancer Center.
In 2014, the Granara-Skerry Trust will host its 5th and Final Purple Ribbon Pub Crawl, and the 8th Annual Granara-Skerry 5k Walk/Run, its signature annual fundraiser held in Kathleen's hometown of Medford, Mass. In addition, preparations are well underway for "Kathy's Gala of Hope" which is planned for the spring of 2015. Kathleen's six siblings, John, Paul, Bob, Nancy, Ned and Jim; her husband, David Skerry; and the Granara-Skerry family's extended network of friends and supporters are more than halfway to reaching Kathleen's goal of raising $1 million for pancreatic cancer research. They will not stop until they fulfill their sister's wish, and ensure that patients facing pancreatic cancer have a brighter future.
Granara-Skerry Trust Philanthropist 2009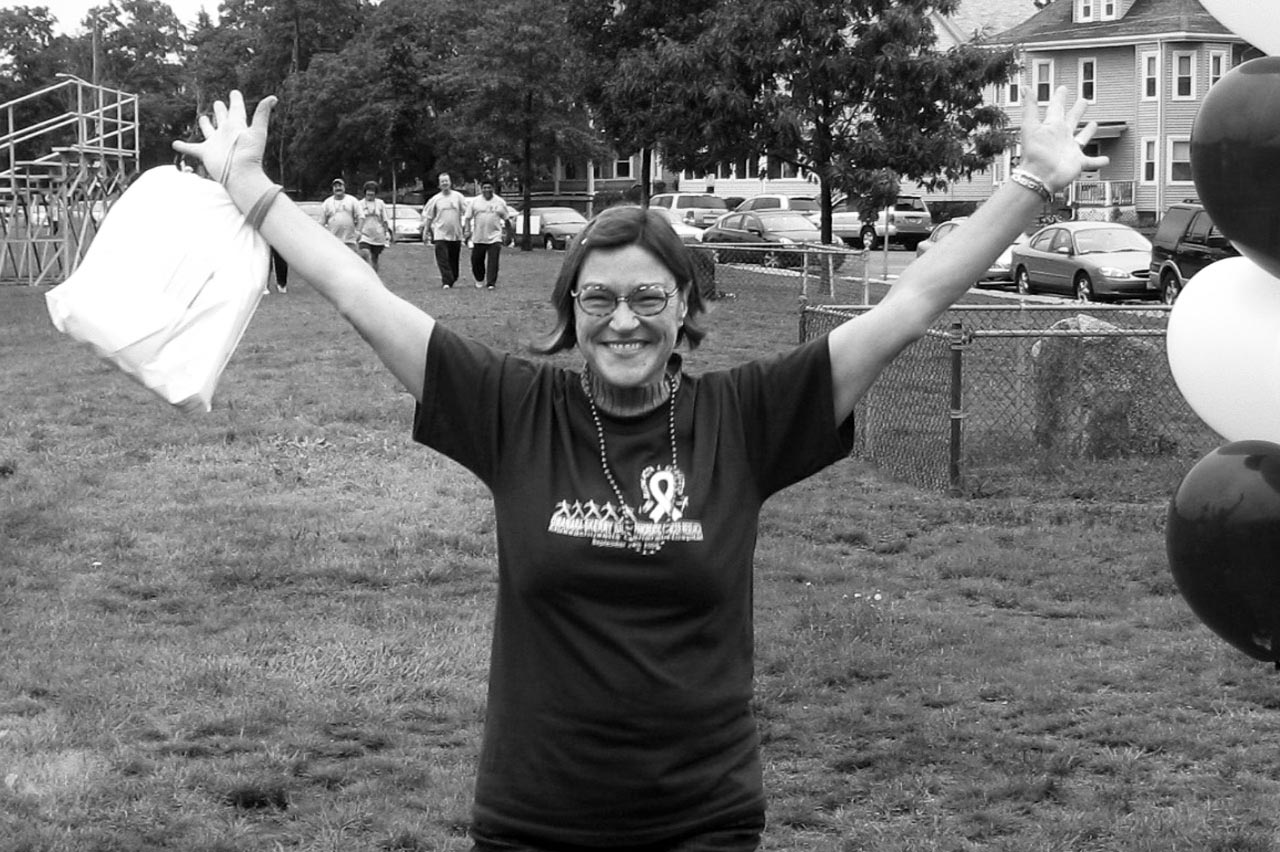 Kathleen Granara-Skerry
philanthropist | 2009
"At age 14, when her mother died from cancer, my wife Kathleen Granara became a surrogate mother to her six younger siblings. Three years later, she began a long career with the Commonwealth of Massachusetts. We married in 1981, and she became the loving stepmother of my three young sons. In 2004, at age 52, Kathy retired. The following year she was diagnosed with pancreatic cancer and told she had six months to live. A week later, Massachusetts General clinicians determined that her cancer was operable and Dr. Carlos Fernandez performed the surgery. Unfortunately, the cancer had spread and she was given a 10 percent chance of survival beyond five years. Under the care of Dr. Andrew Zhu, Kathy underwent chemotherapy, radiation and paracentesis. Despite the toll of her treatment and undaunted by her lack of fund-raising experience, Kathy raised $213,800 for pancreatic cancer research. She fought cancer with the same courage and generosity that have characterized her entire life. Kathy recently lost her battle with cancer."
— David Skerry