Walking To Find A Cure for Pancreatic Cancer.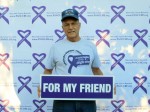 Last Year I Raised $605.00
This is the 10th and final year of the Granara-Skerry Walk/Run for Pancreatic Cancer.  They are hoping to reach their goal of raising a million dollars for Massachusetts General Hospital Pancreatic Cancer Research and they are so close to reaching it.
I have been walking in the Granara-Skerry Pancreatic Walk since 2006.  I have lost two special people in my life to pancreatic cancer,  Edward Smith and  Kathy Granara-Skerry.   Even though I have moved to South Carolina,  I will be walking on Sept. 24th at 10:00 a.m. down here to raise money for the Granara-Skerry Trust back in Massachusetts.
To make it easier for anyone that wants to support me, you can make a donation on this website.    I am hoping that by raising money for pancreatic cancer research to detect early warning signals, maybe we won't lose our loved ones to such a terrible cancer.
Thank you all for your support all these years.
George