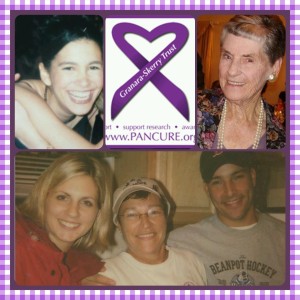 Please consider donating so we can find a cure for this terrible disease. Pancreatic cancer has now taken 3 people we loved very much.  A dear college friend, Beth Palmese Moore, who succumbed to pancreatic cancer at only 30 years old, leaving behind her 2 year old son, 4 year old daughter and husband.  "My Nana" as her great-grandchildren called her, will be gone 2 years this November.  We miss her terribly.  And of course Aunt Kathy, the matriarch of the family and the founder of the Granara-Skerry Trust. Kathy fought almost 4 years against this disease and had a goal of raising one MILLION dollars!  We will get there with your help. No donation is too small…or too large 😉
This will be our 10th and FINAL 5k walk/run. We are so very close and hope to realize Aunt Kathy's goal of a MILLION DOLLARS on Saturday September 24, 2016.  All proceeds go directly to Dr. Zhu (Kathy's doctor) and his team, for pancreatic cancer research at MGH.
Thank you for all you support!!
Bobby, Kristen, Dana, Robbie & Ally